Requesting a Quote?
Looking for better pricing for an item? Create a new company account now to gain access to quoting, quick ordering, and more. Learn more details
here
.
Financial Options Available
RED DIGITAL CINEMA RED RANGER with MONSTRO 8K VV Kit (Gold Mount)
RANGER BRAIN with MONSTRO 8K VV Sensor
PL Lens Mount with Shim Set
Gold Mount Battery Plate
8192 x 4320 Recording up to 60 fps
Configured for rigorous use, the all-in-one Gold mount RED RANGER with MONSTRO 8K VV Kit  is RED DIGITAL CINEMA's 8K solution for rental house and high-end production use. Built around the MONSTRO 8K VV 35.4MP CMOS sensor, this kit features a shimmed PL mount, a Gold mount battery plate, integrated I/O ports including 24V out, additional SDI and AUX power outputs, built-in XLR audio input, and improved thermal performance.
Advancing beyond the RED DRAGON 8K VV sensor, the MONSTRO 8K VV offers a wide dynamic range of 17 stops and improved image quality with greater shadow detail. Use full-frame lenses to capture cinematic images at rates up to 60 fps in 8192 x 4320 8K, 75 fps in the 2.4:1 aspect ratio, 120 fps in 4K, and up to 240 fps in 2K.
Record full-frame video in REDCODE RAW (R3D) and ProRes or DNxHR/HD simultaneously, or capture minutely detailed 35.4MP still images. With up to 4x greater resolution than 4K capture and over 17x more than HD, the WEAPON MONSTRO 8K VV provides the detail that enables cropping, re-centering, and additional tweaking during post while maintaining vivid, crisp imagery. Data rates of up to 300 MB/s can be reached when using 480 or 960GB MINI-MAGs, or up to 225 MB/s with 120 or 240GB MINI-MAGs (available separately).
In addition to the PL-mount RED RANGER BRAIN, this kit includes a BRAIN case, the Production Top Handle, two 15mm LWS rod brackets, the 7.0" RED PRO Touch monitor with cable and adapters, a 24V AC adapter and power cable, and compatible hex and Torx tools
Key Features
35.4MP, 40.96 x 21.60mm full-frame CMOS sensor for up to 8K-resolution images
17-stop dynamic range, with improved image quality and greater shadow detail
Multiple capture rates including up to 60 fps 8K, 120 fps in 4K, and 240 fps in 2K full format
Versatile workflow options with REDCODE RAW, ProRes, and DNx recording
Durable aluminum body
Up to 300 MB/s data rates with 480 or 960GB, or 225 MB/s with 120 or 240GB MINI-MAGs
Integrated XLR audio input
Kit Items
PL lens mount with shims
Production top handle
Two 15mm LWS rod brackets
7" RED PRO Touch with 9" ARM
24V AC adapter with cable
Hex and Torx tools
BRAIN case
In the Box
RED DIGITAL CINEMA RED RANGER with MONSTRO 8K VV Kit (Gold Mount or V Mount)
RED RANGER BRAIN with MONSTRO 8K VV Sensor
RED RANGER BRAIN Case
Production Top Handle
2 x RED DIGITAL CINEMA DSMC 15mm Adapter (Centered)
RED DIGITAL CINEMA RED PRO Touch 7'' LCD
RED DIGITAL CINEMA RED ARM (9")
LCD/EVF Cable
RED DIGITAL CINEMA DSMC2 LEMO Adapter A
LCD/EVF Adapter D
24V AC Adapter with 3-Pin, 24V XLR Cable
PL Mount with Shims
Hex and Torx Tools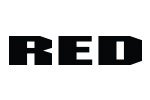 More From RED
View Page
More Information
SKU
104405
Brands
RED
MPN
710-0322
Specifications

Image Sensor

| | |
| --- | --- |
| Image Sensor Size | 40.96 x 21.6 mm (Full-Frame) |
| Sensor Type | CMOS |
| Sensor Resolution | Actual: 8192 x 4320 (35.4 MP) |
| Color Filter | Bayer |
| Shutter Type | Rolling Shutter |
| Advertised Dynamic Range | 17 Stops |
| Signal-to-Noise Ratio | 80 dB |

Camera

| | |
| --- | --- |
| Lens Mount | PL Mount |
| Lens Communication | Yes, Cooke /i |
| Interchangeable Lens Mount | Yes |
| Built-In ND Filter | None |
| Built-In Microphone Type | Stereo |
| Recording Media | 1 x RED MINI-MAG Card Slot |

Internal Recording

Raw Recording
REDCODE RAW:
8192 x 4320 at 23.98/24/25/29.97/48/50/59.94/60 fps 
7168 x 3780 at 23.98/24/25/29.97/48/50/59.94/60 fps 
6144 x 3240 at 23.98/24/25/29.97/48/50/59.94/60 fps 
5120 x 2700 at 23.98/24/25/29.97/48/50/59.94/60 fps 
4096 x 2160 at 23.98/24/25/29.97/48/50/59.94/60 fps 
3072 x 1620 at 23.98/24/25/29.97/48/50/59.94/60 fps 
2048 x 1080 at 23.98/24/25/29.97/48/50/59.94/60 fps 
Recording Modes
ProRes 422HQ 4:2:2:
4096 x 2160 at 23.98/24/25/29.97 fps 
2048 x 1080 at 23.98/24/25/29.97/48/50/59.94/60/120 fps 
ProRes 4444XQ 4:4:4:
2048 x 1080 at 23.98/24/25/29.97/48/50/59.94/60/120 fps 
DNxHR 4:2:2 12-Bit:
4096 x 2160 at 23.98/24/25/29.97 fps 
2048 x 1080 at 23.98/24/25/29.97/48/50/59.94/60/120 fps 
DNxHR 4:2:2 8-Bit:
4096 x 2160 at 23.98/24/25/29.97 fps 
DNxHD 4:4:4 10-Bit:
1920 x 1080 at 23.98/24/25/29.97/48/50/59.94/60/120 fps 
DNxHD 4:2:2 10-Bit:
1920 x 1080 at 23.98/24/25/29.97/48/50/59.94/60/120 fps 
DNxHD 4:2:2 8-Bit:
1920 x 1080 at 23.98/24/25/29.97/48/50/59.94/60/120 fps 

Interfaces

Video Connectors
2 x BNC (3G-SDI) Output
1 x BNC (SDI) Monitor Output
Audio Connectors
1 x 3-Pin XLR Mic/Line Level (+48 V Phantom Power) Input
1 x 1/8" / 3.5 mm Stereo Headphone Output
Other I/O
1 x 4-Pin LEMO RS-232 Control Input/Output
1 x 5-Pin LEMO Timecode Input/Output
1 x BNC Genlock Input
1 x RED Cable-Free Monitor Connection Monitor Output
1 x 9-Pin GIG-E 1000BASE-T Data, Control Input/Output
Wireless Interfaces
Wi-Fi Control

Display

| | |
| --- | --- |
| Display Type | LCD |
| Screen Size | 7.0" |
| Touchscreen | Yes |
| Screen Resolution | 1920 x 1136 |

EVF

| | |
| --- | --- |
| EVF | Optional, Not Included |

Power

Battery Type
Gold Mount
Power Connectors
1 x 4-Pin LEMO (11.5 to 32 VDC) Input
1 x 2-Pin LEMO (11.5 to 17 VDC up to3 A) Output
1 x 2-Pin LEMO (11.5 to 17 VDC up to1.5 A) Output
1 x D-Tap (11.5 to 17 VDC up to3 A) Output
2 x 3-Pin Fischer (24 VDC up to2.5 A) Output
1 x USB Type-A (5 VDC up to1.5 A) Output
Power Consumption
≥63 W

Environmental

| | |
| --- | --- |
| Operating Temperature | 32 to 104°F / 0 to 40°C |
| Storage Temperature | -4 to 122°F / -20 to 50°C |
| Operating Humidity | 0 to 85% |
| Storage Humidity | 0 to 85% |

General

Accessory Mount
55 x 1/4"-20 Female
1 x ARRI/Hirth Rosette
14 x 3/8"-16 Female
Tripod Mounting Thread
1/4"-20 Female, 3/8"-16 Female
Material of Construction
Aluminum
Dimensions
7.77 x 6.32 x 6" / 197.27 x 160.6 x 152.35 mm
Weight
7.3 lb / 3.31 kg