Requesting a Quote?
Looking for better pricing for an item? Create a new company account now to gain access to quoting, quick ordering, and more. Learn more details
here
.
Financial Options Available
Sachtler 1049 Tripod System with FSB 10 T Head, ENG 2 CF Tripod, Mid-Level Spreader, and Padded Bag ENG 2
FSB 10 T Fluid head (S2046-0001)
Tripod ENG 2 CF (5386)
Mid-level spreader 100/150 (7007)
Rubber feet 100/150 (7004)
Padded bag ENG 2 (9104)
The Sachtler 1049 Tripod System with FSB 10 T Head, ENG 2 CF Tripod, Ground Spreader SP 100, and Padded Bag ENG 2 is a complete tripod system comprised of durable Sachtler products. The fluid head, tripod, and ground spreader combine to form a sturdy and reliable camera support system capable of supporting payloads of up to 26.5 lbs. The system weighs 13.8 lbs, reaches a maximum height of 66.1 in and collapses to 35 inches for easy transportation.
The Sachtler FSB 10, 100 mm Fluid Head with Touch & Go Plate S provides very smooth pan and tilt movements for precise panning. The compact head features low weight, an integrated flatbase, ergonomic design and is perfect for large cinema cameras such as the Sony FS7, Canon C300 and Blackmagic Ursa. The robust and reliable construction ensures long-lasting quality and easy operation. With a 5-setting drag module and 10-step counterbalance, the FSB 10 provides plenty of control and functionality.
With rugged durability, the Sachtler FSB 10, 100 mm Fluid Head with Touch & Go Plate S expands on Sachtler's line of lost-lasting and resilient fluid heads. The high-quality tilt and pan movements and lightweight build makes it perfect for all types of environments that you can take with you for years to come. The FSB 10 T can handle camera loads up to 26.5 lbs and allows users to customize the system to fit their every day needs. The robust fluid head set-ups quickly on the fly or on uneven ground for extreme shots.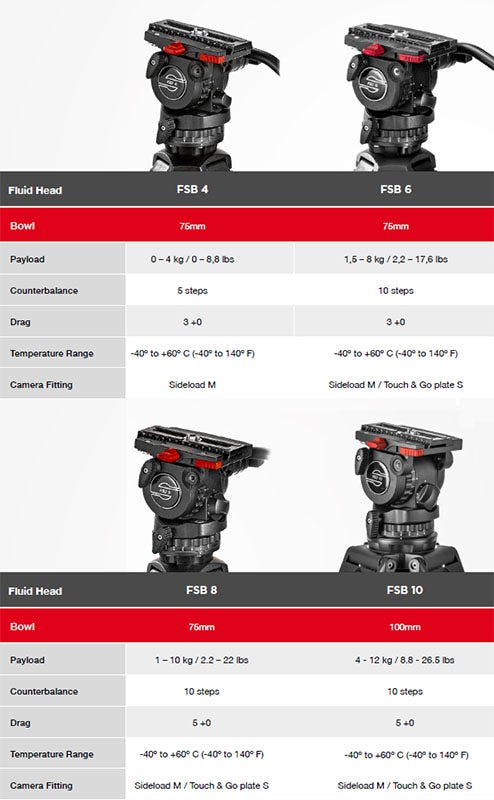 The Sachtler Tripod ENG 2 CF is a durable carbon fiber tripod, with the Sachtler quick clamping system, you can securely and visibly lock the tripod legs in a second. The extractible carbon fiber tripod is extremely light yet reliable and robust.
Keep your tripod balanced on uneven ground with the preset distances for rapid and easy set-up. The Mid-Level Spreader 100/150 attaches to the center bracket and fits all 100mm/150mm bowl tripods. For even more control, use the Rubber Feet to snap onto the bottom of the legs for slippery and glossy floors.
In the Box
FSB 10 T fluid head (S2046-0001)
Tripod ENG 2 CF (5386)
Mid-level spreader 100/150 (7007)
Rubber feet 100/150 (7004)
Padded bag ENG 2 (9104)

More From Sachtler
View Page
More Information
SKU
53566
Brands
Sachtler
MPN
1049
Specifications

FSB 10 T Fluid Head

| | |
| --- | --- |
| Weight | 6 lbs |
| Payload Range | 8.8 - 26.5 lbs |
| Counterbalance Steps | 10 steps |
| Drag Settings | 5 +0 |
| Balance Plate Sliding Range | 2.4 in |
| Tilt Range | + 90 degrees/ -70 degrees |
| Camera Fitting | Touch & Go Plate S |
| Tripod Bowl | 100mm |
| Flat Base | Integrated |
| Temperature Range | -40/+140 Degree Fahrenheit  |
| Pan Bar | 1 x DV 75 |
| Level Bubble | Illuminated Touch Bubble |
| Batteries | 1 x CR 2032 |

Sachtler Tripod ENG 2 CF 

| | |
| --- | --- |
| Weight | 5.3 lbs |
| Payload | 88 lbs |
| Height with Spreader | 18.1 - 61.0 in |
| Height with Mid-Level Spreader | 19.7 - 59.5 in |
| Head Fitting | 100mm |
| Tranport Length | 27.2 in |
| Leg/Stages | 2/3 |