Requesting a Quote?
Looking for better pricing for an item? Create a new company account now to gain access to quoting, quick ordering, and more. Learn more details
here
.
Financial Options Available
Syrp 82mm Variable Neutral Density Filter Kit
0.3-2.55 Neutral Density
Reduce Exposure by 1 to 8.5 Stops
Anti-Reflective and Protective Coating
Optical Glass Construction
Knurled Aluminum Alloy Filter Ring
77-82mm and 72-82mm Step-Up Rings
Includes Cleaning Cloth and Leather Case
The Syrp 82mm Variable Neutral Density Filter Kit offers fine-tuned exposure reduciton betewen 1 and 8.5 stops with a neutral density range of 0.3 - 2.55. By rotating the ring on the filter, you can adjust the strength of the filter allowing you to further control your exposure in a variety of situations. The variable filter features knurled edges for enhanced grip and marked along index points for easier identification. The glass construction is coated to minimize surface reflections and provide greater clarity and image contrast.
For more flexibillity, the kit includes two step-up rings: 77-82mm and 72-72mm. Attach the step-up rings to the front of lenses with smaller diameters to that the variable 82mm filter can be used. Offering versatility and performance, the Syrp 82mm Variable Neutral Density Filter Kit is a great value that comes packed with not only the filters and step-up rings but with a lens case and leather filter case for protection.
In the Box
Syrp 82mm Variable Neutral Density Filter Kit
77-82mm Step-Up Ring
72-82mm Step-Up Ring
Lens Cloth
Leather Filter Case
Limited 1-Year Warranty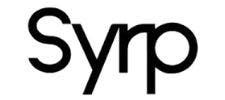 More From Syrp
View Page
More Information
SKU
53438
Brands
Syrp
MPN
0002-0008
Specifications

Type
Variable Neutral Density
2x Step-Up Rings 
Size
Filter: 82 mm 
Step-Up Rings: 77-82 mm and 72-82mm 
Density
0.3 - 2.55
Multi-Coated
Single Coating
Rotating
Yes
Effects
Permits a longer exposure
Construction
Aluminum alloy filters and step-up rings 
Optical glass filter substrate 
Front Filter Thread Size
82 mm
Fonrt Lens Cap Size
82 mm