Requesting a Quote?
Looking for better pricing for an item? Create a new company account now to gain access to quoting, quick ordering, and more. Learn more details
here
.
Financial Options Available
Cube 205 Encoder
Cube 305 Decoder
HDMI Input
HD-SDI Output
Includes SKB Case
The Teradek Cubelet 205/305 provides a high-definition end-to-end streaming video solution by pairing the Cube 205 HDMI Encoder and Cube 305 HD-SDI Decoder.
Cube-205 HDMI Encoder
Teradek's Cube-205 HDMI Encoder connects to a camera by HDMI. The unit encodes video and embedded audio, and streams these in H.264, in up to 1080p/30, to an optional decoder or to a designated URL, streaming by Ethernet or optionally by a 3G/4G USB modem, which connects into the 205's USB port. You can at the same time also store short-form (2-3 min) proxy files to a microSD card or stream them to a computer over a network. (You would need to first enable a feature called "Proxy Recording" for free from a Teradek forum).
An OLED screen allows you to change and review settings of the unit, also offering feedback for filenames and recording status. Each feature of the unit is easily controllable from here, rather than configuration through a computer or tablet. A headphone output allows for immediate audio monitoring. Additionally, the Cube supports several Content Delivery Networks (CDNs) including UStream, Justin.tv, Livestream, YouTube Live and more.
The Cube can be used camera-top, attaching right into your camera's hot-shoe, or you can mount it onto a rig by an included 1/4" mounting screw. For power, you can use the included AC adapter or you can connect a 2-pin LEMO battery.
Streams video and embedded audio in up to 1080p/30 in H.264 to an optional decoder or designated URL
Can simultaneously also save or stream proxy files
Streams by Ethernet or by an optional 3G/4G USB modem
Stores short-form proxy recordings to optional microSD cards up to 32GB in capacity
Headphone output allows for immediate audio monitoring
Supports CDNs like UStream, Justin.tv, Livestream, YouTube Live and more
Attaches to a camera's hot-shoe or onto a rig by a 1/4"-20 screw
OLED screen indicates online status and the URL being streamed to
Cube 305 HD-SDI Decoder with Ethernet
The Teradek Cube 305 HD-SDI Decoder with Ethernet makes up an HD video transmission solution with any Cube Encoder that streams by wired Ethernet (such as Cube 105). Cube 305 receives the stream with embedded audio over Ethernet, decodes it, and outputs it in the widely-used, edit-ready H.264 codec to switchers, professional monitors and other equipment via an HD-SDI output. H.264 is also a popular codec for uploading files to the internet. An alternative to receiving a stream by Ethernet, Cube 305 can receive by an optional 3G/4G USB modem, which would install into a USB port positioned right beside the Ethernet port. A MicroSD card slot enables saving the received stream in addition to outputting it, and an OLED display on the side communicates transmission status and other data.
Cube 305 supports resolutions up to 1080p/30, which is the top resolution that many common camcorders and DSLRs shoot in. The Cube moreover features a built-in scaler and can upscale any lower resolution to 1080p/30.
The Cube powers by an included AC adapter or an optional Teradek/Swit 945, D54, or VGB6 2-pin Lemo battery, and it is outfitted for 1/4" mounting. Cube 305 is almost identical with Cube 355. The only differences between the two are that Cube 355 features WiFi instead of an Ethernet input and also has a 2-hour internal battery.


Receives a 1080p/30 stream with embedded audio by Ethernet or optional USB modem
Outputs 1080p/30 in H.264 to switchers, monitors and other equipment by HD-SDI
A built-in scaler can internally upscale to 1080p/30
Powers by an included AC adapter or optional 2-pin Lemo Teradek/Swit battery
MicroSD card slot enables saving the received stream
OLED display communicates transmission status and other data
In the Box
Cube-205 HDMI Encoder
AC Adapter
Limited 1-Year Warranty
Cube 305 HD-SDI Decoder with Ethernet
AC Power Adapter
SDI Cable
Ethernet Cable
1/4"-20 Mounting Screw
Teradek Pouch
SKB Plastic Case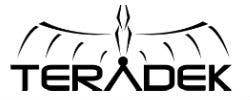 More From Teradek
View Page
More Information

| | |
| --- | --- |
| SKU | 49151 |
| Brands | Teradek |
| MPN | 10-0630 |