Requesting a Quote?
Looking for better pricing for an item? Create a new company account now to gain access to quoting, quick ordering, and more. Learn more details
here
.
Financial Options Available
Matthews Studio Equipment 12 x 12' Butterfly/Overhead Fabric - Black Single Scrim
Matthews 12' x 12' Single Open-End Scrim Black
Reduces of light intensity without changing pattern or color temperature
Approximate light loss is 0.6 Stops
Used to control or manipulate light falling on certain areas of the subject
12' x 12' Single Scrim - Black, Part# 319087, by Matthews Studio Equipment: All fabrics were tested in a black chamber with an incandescent light source at one end and the fabric positioned 2/3 of the way between the source the digital light meter. Custom sizes available.
In the Box
Matthews Studio Equipment Black  Single Scrim Butterfly/Overhead Fabric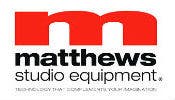 More From Matthews Studio Equipment
View Page
More Information
SKU
7268
Brands
Matthews Studio Equipment
Specifications

Fabric: Black Single Scrim
Approx. Light Loss: 0.6 Stops
Webbing Color: White
Primary Use: Reduction of light intensity without changing pattern or color temperature
Safety Characteristics: Flame Retardant