Requesting a Quote?
Looking for better pricing for an item? Create a new company account now to gain access to quoting, quick ordering, and more. Learn more details
here
.
Financial Options Available
Cardellini GLP Green Laser Pointer
Easily visible in direct sunlight
Typically brighter than red laser
Wave length of 532nm
Length: 6-1/4"/Diameter: 17/32"
1000 meter range
Compatible with Cardellini Laser Pointer Holders
Uses two AAA batteries
This Cardellini GLP Green Laser Pointer is extremely strong and compatible with Cardellini laser holders. With a lightweight and durable aluminum barrel, this pointer emits and beam with a wave length of 532nm, and has a range of 1000 meters (1093 yards) - that's more than half a mile! The Cardellini Green Laser Pointer offers an output power of 5mW and has a constant wave output. Additionally, the green laser is brighter than a red laser and is easily visible in direct sunlight.
Laser pointers are extremely useful tools on set or out on a location night shoot. Very often, you will see either the DP, Key Grip, or Gaffer using a laser pointer to indicate a place (generally up high on a set or a stage) to a crew member where a lamp or other piece of gear is supposed to be hung or rigged. The laser pointer sends out an extremely bright green "dot", that is easy to see way up high. The First AC or Dolly Grip will also attach a laser pointer to a dolly or crane arm with a clamp and aim it at a specific mark on the ground or stage floor that corresponds to a precise location or distance from a subject. As the dolly or crane moves, the First AC and/or Dolly Grip now have a precise reference or target to aim for or judge distance with.


User Safety Precautions
1. Under normal operation, it is safe on the human body.
2. Focusing directly on a laser beam may result in temporary or permanent eye damage. Care should always be taken.


In the Box
-Laser
-2 AAA batteries
-Durable soft foam container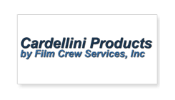 More From Cardellini
View Page
More Information
SKU
15389
Brands
Cardellini
MPN
GLP
Specifications

Brass tube, painted black
Uses 2 AAA Batteries
Length: 6-1/4"
Diameter: 17/32"
Weight w/ batteries: 3 oz.