Requesting a Quote?
Looking for better pricing for an item? Create a new company account now to gain access to quoting, quick ordering, and more. Learn more details
here
.
Financial Options Available
OWC Mercury On-The-Go Pro External Solid State Drive (Various Memory Capacities)
SATA Interface
Fujitsu USB 3.0 Chipset
Durawrite Technology
Block Management & Wear Leveling
Intelligent Read Disturb Management
Intelligent Recycling Technology
RAISE Technology
ECC (Error Correction Code) Protection
USB 3.0 / 2.0 / 1.1 Backwards Compatible
USB Bus-powered
The OWC Mercury On-The-Go Pro External Solid State Drive is a media storage solution that allows you to connect various options, including FireWire 800/400 and USB 3.0. This is compatible with both Mac and PC machines, which makes this compact and versatile with its backwards compatible option of USB 2.0. The drive features a fanless design for near silent operation and utilizes the current DuraClass technology with a SandForce processor to deliver high transfer speeds, endurance, performance and power efficiency.
The Solid State Drive features RAISE (Redundant Array of Independent Silicon Elements) technology along with ECC protection to protect data on your drive. An intelligent block management and wear leveling system evenly distributes the data over the drive. Furthermore, an intelligent read disturb management spreads the active read/write across the flash components, eliminating data corruption. Advanced intelligent recycling ensures space management by rewriting data over the Solid State Drive.
A variety of included cables enable you to begin using your Solid State Drive right out of the box. The included USB cable enables you to connect to systems with either a USB 3.0 or 2.0 port. Although the drive comes preformatted for Mac OS X systems, it can easily be reformatted for a Windows system. Once connected, the OWC Solid State Drive contains both backup and utility software, allowing you to easily create complete system backups.
DuraClass Technology
Utilizes the current DuraClass technology with a SandForce processor to deliver high transfer speeds, endurance, performance and power efficiency
RAISE with ECC Protection
Features RAISE (Redundant Array of Independent Silicon Elements) technology along with ECC protection to protect the data on your drive
Intelligent Block Management and Wear Leveling System
An intelligent block management and wear leveling system evenly distributes the data over the drive
Intelligent Read Disturb Management
Intelligent read disturb management spreads the active read/write across the flash components, eliminating data corruption
Intelligent Recycling
Advanced intelligent recycling ensures space management by re-writing the data over the Solid State Drive
Compact and Versatile
The bus-powered OWC Mercury On-The-Go drive includes both FireWire 800 and USB 3.0 ports, making it compact and versatile
Cool and Silent
The OWC Mercury On-The-Go's fanless design offers near silent operation, while keeping your drive cool. The built-in aluminium heatsink underneath the drive and pass-through cooling vents on top of the case work in tandem to provide optimum results
Fast and Reliable
The OWC Mercury On-The-Go uses the Oxford and ASMedia chipset for both FireWire 800/400 and USB 3.0. It is designed to work with both SATA hard drives and Solid State Drives
Included Software Suite
Prosoft Engineering Data Backup for Mac OS X v10.2.8 or later
Carbon Copy Cloner for Mac OS X 10.4 or later
NovaStor NovaBACKUP Solution for Windows
Intech SpeedTools Utilities
In the Box
OWC / Other World Computing 2.5" Mercury On-The-Go Pro External Solid State Drive 
High Quality Double Shielded USB 3.0 Certified Connecting Cable
Carrying Case
Intech SpeedTools Utilities OEM (For Mac OS 8.6 - X only)
Prosoft Engineering Data Backup for Mac OS X v10.2.8 or later
NovaStor NovaBACKUP for Windows 2000 or later
Carbon Copy Cloner for Mac OS X 10.4 or later
On-The-Go Pro Manual
Over 1.5 GB of Freeware/Shareware/Public Domain Software Installed
Complimentary Level 1 Data Recovery
3-Year Solution Warranty with 48-Hour Turnaround Time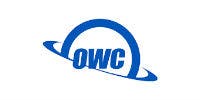 More From OWC
View Page
More Information
SKU
64952-etc
Brands
OWC
Specifications

Connection Interface
1 x USB 3.0 (USB Micro-B)
Pre-Format
HFS+
Internal Interface
SATA (Unspecified)
Type
Solid-State Drive
Cache Memory
None
Bus Power
USB
Environmental Resistance
Shock
Operating Temperature
32 to 158°F / 0 to 70°C
Storage Temperature
-40 to 85°F / -40 to 185°C
Dimensions (L x W x H)
5.5 x 3.5 x 1.0"
14.0 x 8.9 x 2.4 cm
Weight
0.6 lbs / 0.3 kg