Requesting a Quote?
Looking for better pricing for an item? Create a new company account now to gain access to quoting, quick ordering, and more. Learn more details
here
.
Financial Options Available
Genus Sherpa GSHERPA-K1 Shoulder Mount Kit
Dovetail Tripod Plate
Camera Mount Plate
Quick Release Baseplate
Dovetail Plate
Hand Grip Support Bar with 360 degree Rosettes
(2) Hand Grip Extenders with 360 degree Rosettes
(2) De-Luxe Hand Grips with 360 degree Rosettes
De-Luxe Shoulder Pad
Front Bracket for RED Cameras
Gold Camera Mount
The Genus Sherpa GSHERPA-K1 Shoulder Mount Kit has been designed with light-weight materials (the total rig weighs only 2.7 kg / 5.9 lbs) but is rock-solid whilst shooting.

The Sherpa takes less than two minutes to assemble. The Quick Release Base Plate slides onto the main dovetail base plate and lock-lever's into position. The complete hand assembly also slides onto the main dovetail plate and is fixed into the desired position via a knurled lock-off knob.

Steel Rosettes on the hand grips, extenders and front bar enable you to operate in the position that suits you and your camera & the rosettes have been designed in a way that allows fine adjustment.

The handgrips have been ergonomically designed and the high-grade compound, covering the handle, ensures there is no slipping in your hand.

The lock-off knobs of the Sherpa system are all ratcheted. By ratcheting you can lock down to the level you want in the tightest of spaces.

The De-Luxe Shoulder Pad can also be finely adjusted because this, too, has a rosette attachment. Not only can the pad be moved along the main plate, to move the camera to the ideal shooting position, it can be move left or right so the pad sits comfortably on your shoulder.

As previously mentioned the main base plate has a quick release system. Simple pull the lever, to release the brake, and you can slide the camera system of the rig in seconds. The main base plate has 19 mm sockets, and the camera base plate has 15 mm sockets for rods so you can mount other accessories (field monitor for example) in the ideal operating position.

The camera base plate can be attached to the main base plate. This elevates the position of your camera and is ideal if using a DSLR camera, a Canon C100 / C300 or C500 for example.

There is also a front bracket in the Sherpa Kit should you be shooting with a RED Camera.

The camera base plate has ¼" and 3/8" threaded sockets on either side so you are able to attach an Articulating Arm.

Both Main Base Plate and Camera Plate are supplied with ¼" and 3/8" camera screws.
In the Box
1 x Camera Mount Plate
1 x Quick Release Baseplate
1 x Dove-Tail Plate
1 x Hand Grip Support Bar with 360 degree Rosettes
2 x Hand Grip Extenders with 360 degree Rosettes
2 x De-Luxe Hand Grips with 360 degree Rosettes
1 x De-Luxe Shoulder Pad
1 x Front Bracket for RED Cameras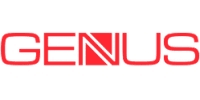 More From Genus
View Page
More Information

| | |
| --- | --- |
| SKU | 23919 |
| Brands | Genus |
| MPN | GSHERPA-K1 |