Requesting a Quote?
Looking for better pricing for an item? Create a new company account now to gain access to quoting, quick ordering, and more. Learn more details
here
.
Financial Options Available
Surefire G2X Pro Flashlight Black G2X-D-BK
Dual-output, 320-lumen maximum, LED light
Factory-focused fixed beam
Polycarbonate precision micro-textured reflector
Anodized aluminum bezel
Black Nitrolon polymer body
Temperature, corrosion and impact-resistant
Shatter-resistant polycarbonate window
The Surefire G2X Pro Flashlight Black G2X-D-BK is a dual-output, 320-lumen maximum, LED light. A low-output 15-lumen brightness setting allows you to extend battery life and use the light for close-range illumination tasks. Its shroudless click-type tailcap pushbutton switch allows both momentary and constant-on modes, as well as a lockout feature to prevent accidental activation during storage, or when strict light discipline must be maintained.
The Nitrolon polymer housing is highly impact and corrosion resistant, and is also temperature resistant so that it maintains a comfortable temperature especially in cold and wet conditions for easier handling. A polycarbonate reflector is micro-textured to produce a beam with a bright center cone and a wide, dimmer ring to help maintain situational awareness. Its polycarbonate window delivers impact-resistant durability, and the body is o-ring and gasket sealed for weatherproof performance.
Light Performance

Low: 15 lumen
High: 320 lumen
White LED emitter
Factory-focused fixed beam
Polycarbonate precision micro-textured reflector creates a smooth beam with a bright center cone and wide, dimmer peripheral ring
Switching

Location: Tailcap
Type: Click-type pushbutton
Momentary and constant-on activation
Shroudless tailcap for easy access to pushbutton
Tailcap lockout feature stops accidental activation
Press for momentary-on low, click for constant-on low; return to off then press or click again for high
Construction Details

1.25" diameter bezel
Anodized aluminum bezel
Black Nitrolon polymer body
Temperature, corrosion and impact-resistant
Shatter-resistant polycarbonate window
Weatherproof, o-ring and gasket sealed
In the Box
2 x CR123A Batteries
Limited Lifetime Warranty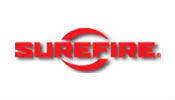 More From Surefire
View Page
More Information
SKU
24144
Brands
Surefire
MPN
G2X-D-BK
Specifications

Illumination Source: White LED
Output Range: Low: 15 lumen
High: 320 lumen
Battery: 2 x CR123A
Runtime: Low: 45 hr
High: 2.75 hr
Construction: Nitrolon polymer
Weatherproofing: Weatherproof, o-ring and gasket sealed
Bezel Diameter: 1.25" / 3.2 cm
Length: 5.2" / 13.2 cm