Requesting a Quote?
Looking for better pricing for an item? Create a new company account now to gain access to quoting, quick ordering, and more. Learn more details
here
.
Financial Options Available
Light & Motion Stella Pro 5000 RF spLED 5600K LED Light
Brightness: 5000 Lumens
COB Single Point LED Array
90+ CRI and 93+ TLCI
120° Beam Angle, Waterproof to 328'
Highly Shock Resistant
Dimmable, Flicker-Free Output
AC or Battery Powered
90 - 375 Minutes Battery Run Time
Dead Silent Operation
EL-Skyport Wireless Transceiver
The Light & Motion Stella Pro 5000 RF spLED 5600K LED Light features a Chip on Board Single Point Lighting Array cased in a rugged, compact and cord-free design. The array is comprised of 29 emitters that delivers the optical characteristics of a single-point light source, simplyifying form and design. The emitters also reduce the light field in a single and multiple light set-up and eliminates the multiple shadow effect.
The Stella Pro 5000 RF's smooth, even, 120-degree beam can be easily shaped and modified to provide a light that renders colors beautifully with consistent, reliable, regulated output. Powered by an integrated Li-ion battery, the Stella Pro 5000 RF can run for 90 to 375 minute completely cord free. For longer shoots simply plug Stella into any AC or DC power source including D-Tap batteries (via optional adapter)
Taking cord free operation to the next level, the Stella Pro 5000 RF integrates Elinchrom Remote technology allowing long range and reliable wireless control for up to 20 lights from a smart phone/computer or transmitter. Further easing set up and production for on-location and studio work, the Stella RF 5000 balances power with a fully submersible (100 Meters) design for the most versatile cord-free light available for the broadcast and photo industry.
Features
High Output "Chip on Board" LED
Certified TLCI 93+, CRI 90+, CCT 5600 Kelvin
Output up to 10,300 Lux at 1 Meter (1,000 Lux at 3 Meters)
Rechargeable Li-ion battery for 1.5 – 6.25 hours of cord-free operation
Sophisticated flicker-free design
Regulated lumen output - does not fade during use
Dimming with continuous control
Controlled focus from 120° down to 50° & 25°
Broad range of accessories including Profoto, Elinchrom, and Chimera adaptability*
OLED Digital Display for precise readout with power output, battery, and charge status.
Runs off wall power, DTAP, 11 - 25V
Fast Charge of 2 hours, 80% Charged in 1.5 hrs**
Certified performance (FL-1 Standard)
Includes New RF Technology:
Built in EL-Skyport transceiver supports up to 10 frequency channels and 4 light groups
Control 20+ lights with range up to 200 meters (outdoors) and 60 meters (indoors) with EL-Remote Control For Stella Pro (Not Included)
Intuitive three button interface provides fast, precise output control and navigates settings menu
Wireless firmware updates allow professionals to keep current with all future technology updates
In the Box
Stella Pro 5000 RF LED light
50° Optic
Speedring Gel Holder
YS Mount Pro
C-Stand Mount
High Leverage Handle
Power Supply 24V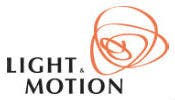 More From Light & Motion
View Page
More Information
SKU
66430
Brands
Light & Motion
MPN
850-0387-A
Specifications

Lumens 
120 degrees
High - 5000
Med - 2000
Low - 1200 
Run Time
Run Time
High - 90 mins
Med - 180 mins
Low - 375 mins
Charge Time
2 hrs
System Weight
1148 g
Size
182 x 88 x 88 mm