Requesting a Quote?
Looking for better pricing for an item? Create a new company account now to gain access to quoting, quick ordering, and more. Learn more details
here
.
Financial Options Available
Litepanels Caliber LED Fresnel 3-Light Kit with Soft Case
Lightweight kit is ideal for location setups and travel
Multi-jointed mounts allow the lights to be fixed in a number of positions
A true Fresnel fixture that produces soft, directional illumination
Flicker-free at any frame rate or shutter angle
Ultra-smooth dimming from 100% to 0, with no noticeable color shift throughout the entire range
Low power draw means the portable fixtures can run anywhere light is needed
The Litepanels Caliber 3-Light Kit is the portable, out-of-the-box lighting solution that today's professional videographers have been waiting for. Ideal for webcasting, blogging and professional content creators, the compact Caliber 3-Light Kit enables easy travel and fast setup. The latest addition to Litepanels' award-winning line of LED Fresnels, the Caliber is a true Fresnel fixture with wide focus range that can be powered via AC or with AA batteries. Each fixture offers focusable output comparable to a 150W tungsten yet requires only 17W to power it. The fixture's compact size and high intensity output make it a valuable production tool in the field. Weighing in at less than 13 pounds, each kit contains (3) Caliber fixtures, (3) AC Adapters with international plug sets, (3) multi-jointed flexible tripods, and a compact stand with stand adapter, offering additional placement options. Everything comes packaged in a fully customizable soft case, with plenty of additional storage space for batteries, camera lenses and other items.
Ideal for travel and location work, the 2" Caliber Fresnel measures 8.8 x 3 x 3 and weighs just 1.3 lb. yet its daylight-balanced output is the equivalent of a 150W tungsten fixture while consuming just 17W of current. Versatility and control are key to the Caliber's design. Its 0-100% dimming range and exceptionally wide 17-73 degree spot-to-flood beam angle make it highly useful for everything from wide, soft wash lighting to sharp-shadow sunlight effects or hairlighting. The included 4-way barndoors allow further refinement and precise placement of the unit's beam. The light is ready for worldwide use via its included 100-240 VAC power supply but it can also run on 6 easily-sourced AA batteries when mains power is unavailable.
The lights and accessories store and travel in a soft-sided 16.5 x 10.5 x 12" case with user- adjustable interior compartments that weighs just 13 lb when filled with the kit's components.
CALIBER 3-LIGHT KIT ADVANTAGES
Lightweight kit is ideal for location setups and travel 
Multi-jointed mounts allow the lights to be fixed in a number of positions 
A true Fresnel fixture that produces soft, directional illumination 
Flicker-free at any frame rate or shutter angle 
Ultra-smooth dimming from 100% to 0, with no noticeable color shift throughout the entire range 
Configurable soft case allows for easy customization 
Low power draw means the portable fixtures can run anywhere light is needed, on AA batteries or via AC (Fixture is 2x brighter when run on AC) 
17W power draw with output comparable to a 150W Tungsten
In the Box
Litepanels Caliber LED Fresnel 3-Light Kit with Soft Case
3 x Caliber Fresnel Fixture
3 x Multi-Jointed Flexible Tripod
3 x Gel Set
3 x Color Frames
3 x Four-way Barndoors
Compact Light Stand
Stand Adapter
Ball Head Shoe Mount
3 x International Power Supply
Soft Case with Customizable Interior Compartments
Limited 1-Year Warranty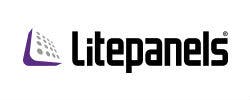 More From Litepanels
View Page
More Information
SKU
50766
Brands
Litepanels
MPN
909-1001
UPC
719821362203
Specifications

Type: LED Fresnel 2.0" (5.0 cm)
Color Temperature: Daylight balanced
Beam Angle: 15 - 73°
Power Requirements: 6.0 - 12 VDC
Power input: 120-240 VAC