Requesting a Quote?
Looking for better pricing for an item? Create a new company account now to gain access to quoting, quick ordering, and more. Learn more details
here
.
Financial Options Available
Litepanels Gemini 2x1 Bi-Color LED Soft Panel Light - Standard Yoke (US Power Cable)
US Power Cable
Variable Color: Tungsten to Daylight
Hue, Saturation, Light Intensity Control
Plus / Minus Green Control
Firmware Update for Special Effects
6 Litepanels Presets, 6 User Presets
Integrated DMX, Optional Wireless DMX
Bluetooth and SmartLite App Control
Built-In AC or Optional Battery Power
CRI/TLCI: 97 Daylight, 99 Tungsten
The Litepanels Gemini 2x1 Bi-Color LED Soft Panel Light - Standard Yoke (US Power Cable) is the industry's most accurate and versatile 2x1 soft panel. The LED provides a nice wide soft source of color accurate illumination in both Daylight and Tungsten operation. The Gemini allows for quick and easy adjustment with 3 lighting modes with full color and hue and saturation control that can range from 100% - 0 at all times.
All of these adjustments can be made locally on the unit or remotely via a console, thanks to the Gemini's built in DMX. There's even the option of wireless DMX or Bluetooth control via a separately purchased remote module. The Gemini is ready for worldwide use, thanks to its built in 100 to 240 VAC power supply but it can also run on batteries when power is unavailable.
The Gemini has a number of convenience features, such as the ability to stack and gang several lights together with an optional yoke and hardware. You can also daisy-chain multiple lights together in Master/Slave mode, allowing a single designated "Master" light to control the others. This version of the Gemini ships with a standard yoke and a US power cable.
3 Lighting Modes
CCT (Correlated Color Temperature) mode allows for bi-color (daylight to tungsten) operation with the addition of plus and minus green adjustment
HSI Color mode allows for full color control over hue, saturation, and intensity
Gel mode allows for a variety of gels to be selected from the menu
Firmware Update for Special Effects
A firmware update adds a Lighting Effects Mode that includes TV simulation, hue burst, paparazzi, strobe, fire, squares, fireworks, emergency lights, pulse and party lights.
Performance
Flicker-free at any frame rate or shutter angle at any intensity level
Smooth dimming from 100 to 0%, with no color shift
Energy efficient - fixture draws only 325W nominal
No heavy external ballast or restrike period
Presets
Program user presets on Channel A, which records color and intensity. It also has factory presets on channel B with increments for 2700 to 6000K plus six user-programmable presets
Control
Master/Slave mode - connect multiple lights together and control them all from a single master light
Optional Bluetooth and wireless DMX modules allow the brightness, color, and cooling mode to be remote controlled
Intuitive and ergonomic controls for dimming, color, and fixture set up
Power Options
AC/DC power with DC battery power via 3-pin XLR
Durability and Design Features
Aluminum core construction to provide maximum durability and superior thermal management
Durable, industry standard powerCon locking power connector with ability to daisy chain power
Yoke with Junior pin for easy mounting and positioning
LCD screen displays vital settings and status
Barndoor/honeycomb accessory rails
Photometrics
Daylight
4317 lux / 389 fc @ 5.0' (1.5 m)
1079 lux / 97 fc @ 10' (3.0 m)
459 lux / 43 fc @ 15' (4.6 m)
Tungsten
3624 lux / 326 fc @ 5.0' (1.5 m)
906 lux / 82 fc @ 10' (3.0 m)
385 lux / 36 fc @ 15' (4.6 m)
In the Box
Litepanels Gemini 2x1 Bi-Color LED Soft Panel
Standard Yoke
Power Cable for Gemini LED Light (US)
Limited 1-Year Warranty
Limited 1-Year Warranty Extension for a Total of 2 Years after Product Registration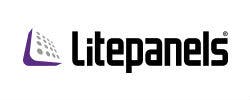 More From Litepanels
View Page
More Information
SKU
66456
Brands
Litepanels
MPN
940-1301
Specifications

| | |
| --- | --- |
| Beam Angle | 93  |
| Max Power Draw | 325W |
| Optics | Medium Diffusion Panel |
| Weight | 22.2 lbs |
| Power Supply | 28V DC/100-240 VAC |
| Dimensions | 25 x 6.5 x 12.5" |
| CRI | 97/99 |
| Wireless | Wireless DMX and Bluetooth |
| Gel Filters/Diffusers | Gel Mode with option of Daylight or Tungsten Source |
| Fixture Type | Panel Lights |
| Color Temperature | Tungsten-Daylight |