Requesting a Quote?
Looking for better pricing for an item? Create a new company account now to gain access to quoting, quick ordering, and more. Learn more details
here
.
Financial Options Available
Matthews Studio Equipment 8 x 8' Butterfly/Overhead Fabric - Gold Lame
8 x 8' Butterfly/Overhead Fabric
Gold Lame
Ultra soft reflector with a warming effect
8' x 8' Lame - Gold, Part# 309103, by Matthews Studio Equipment: All fabrics were tested in a black chamber with an incandescent light source at one end and the fabric positioned 2/3 of the way between the source the digital light meter. Custom sizes available.
In the Box
Matthews Studio Equipment 8x8' Gold Lame Scrim Butterfly/Overhead Fabric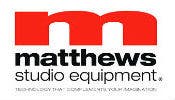 More From Matthews Studio Equipment
View Page
More Information
SKU
7240
Brands
Matthews Studio Equipment
MPN
309103
Specifications

Fabric: Silver Lame
Size: 8 x 8' (2.4 x 2.4 m)
Approx. Light Loss: N/A
Webbing Color: White
Primary Use: Medium Soft Reflector
Safety Characteristics: Self Extinguishing