Requesting a Quote?
Looking for better pricing for an item? Create a new company account now to gain access to quoting, quick ordering, and more. Learn more details
here
.
Financial Options Available
Pelican 1510 Carry On Case without Foam - Black
Watertight, Dustproof Case
Made of Ultra High Impact Copolymer
ABS Double Throw Latches
Built-in Purge Valve
Front/Side Large Folding Haul Handle
Retractable Extension Handle
Polyurethane Wheels with SS Bearings
The Pelican Carry On Case without Foam - Black is an unbreakable, watertight, airtight, dustproof, chemical resistant and corrosion proof hard case used to carry any kind of equipment that needs to be protected from the elements. It is made of Ultra High Impact structural copolymer that makes it extremely strong and durable. It has a 0.25" (6.4mm) neoprene o-ring, and includes an automatic purge valve for quick equalization after changes in atmospheric pressure. It has a hinged case with double ABS latches that seal perfectly and padlock protectors that provide added strength and extra security against cutting and theft.

The 1510NF comes with long side handles, a long front handle, retractable extension handle and strong polyurethane wheels with stainless steel bearings. It has an effortless release latch for the extension handle. The case meets current FAA requirements for carry on luggage.

This case has an empty interior.
Features
Watertight, Dustproof Case
Made of Ultra High Impact Copolymer
Empty Interior
ABS Double Throw Latches
Built-in Purge Valve
Front Large Folding Haul Handle
Large Side Folding Haul Handles
Retractable Extension Handle
Polyurethane Wheels with SS Bearings
On Board
Meets current FAA requirements for carry-on luggage 1
Made of Ultra High Impact structural copolymer that makes it extremely strong and durable
Built-in purge valve for changes in altitude or temperature
Temperature Rating -10° to Plus 210°

Carrying options
Front large folding haul handle
Large side folding haul handles
Retractable extension handle
Strong built-in polyurethane wheels with stainless steel bearings
Padlock protectors provide added strength and extra security against cutting and theft


In the Box
O-Ring
Unconditional Lifetime Guarantee of Excellence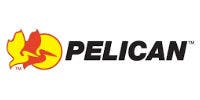 More From Pelican
View Page
More Information
SKU
7865
Brands
Pelican
MPN
1510-001-110
Specifications

Material: Exterior - High impact structural Copolymer Resin Polypropylene, Interior - Empty
Waterproofing: Watertight to 30', O-Ring sealed
Maximum Buoyancy: Floats in salt water with 64.2 lbs (29.1kg) load
Type of Closure: Hinged with double ABS latches, Padlock protectors
Exterior Dimensions: 22 x 13.81 x 9.0" (LxWxD)
Interior Dimensions:19.75 x 11 x 7.6" (LxWxD)
Interior Fitting: Does not come with any foam
Accommodates: Equipment that does not require any foam protection such as items already in cases
Carrying/Transport Options: Front haul handle, Side haul handles, Extension handle, Built in wheels
Weight: 11.99 lbs