Requesting a Quote?
Looking for better pricing for an item? Create a new company account now to gain access to quoting, quick ordering, and more. Learn more details
here
.
Financial Options Available
Redrock Micro "Captain Stubling" DSLR Bundle w/ microFollowFocus
DSLR Hybrid Video Rig
Complete Bundle
Lightweight & Flexible
Quick-Release Baseplate
Gear Driven Smooth, Precise Focusing
3D Marking Disk for Repeatable Focus
0.8 Film Pitch Gearing
The Redrock Micro "Captain Stubling" DSLR Bundle w/ microFollowFocus is a versatile handheld rig designed for people who want to stay light-weight and put the camera everywhere. The Stubling gets its name from its designer, DV Rebel and VFX guru Stu Maschwitz and the functionality of the design reflects Stu's philosphy on shooting - 'put the camera everywhere, stay light, and do it all yourself.
No matter what camera you use, the included microFollowFocus v2 lends your video production the smooth, precise focus control of a big-budget film. The microFollowFocus is incorporated into the rig for precise focus control, and one of the handgrips is moved back on a 4" grip rod so the rig can be steadied in both hands while the thumb and forefinger of the left hand control focus. Whether shooting with a fixed-lens camcorder, interchangeable cinema lenses, or a video-capable DSLR, the precision-machined microFollowFocus system provides repeatable, accurate focusing.
The included handlebar clamp and rods create a hand grip support for this compact rig. The included lightweight, low-profile baseplate can be used to connect standard 15mm rods (60mm spacing) to the bottom of any DSLR.
Ultra Lightweight & Ultra Portable
The Captain Stubling rig offers a new level of portability and light weight for still and cinema-style shooting rigs. At the heart of this system is the unique patent-pending DSLR baseplate: a lightweight connector to connect the DSLR to 15mm rails as the backbone of any setup. The DSLR baseplate has set screws to eliminate camera rotation for using accessories such as the microFollowFocus. As a result, full size accessories are avoided, minimizing weight without sacrificing features.
Carbon Fiber Rods
All DSLR bundles ship with carbon fiber rods. Redrock's unique process results in precision, incredibly strong rods that are 66% lighter than comparable stainless steel rods.

Future-proof Accessories
This rig is based on cinema standards wherever possible, including the important specs such as 15mm rails, film pitch gearing, and standard filter sizes. Virtually all components can also be used with video cameras, Red cameras (such as Scarlet) and other DSLRs. This keeps your Redrock gear working for you now and into the future.

microFollowFocus v2
Completely gear-driven design for slip-free, accurate, and repeatable focus movement
Unique quick release clamp
1:1 gear ratio allows smooth movements for still and motion picture 35mm lenses
Adjustable slide-mounting mechanism to fit large range of lens diameters, including video camera lenses
Interchangeable drive gears including 0.8 film pitch and Fujinon pitch (for Fujinon video lenses)
Easily switchable to either side of camera
Optional microLensGears can be quickly attached to existing 35mm still (SLR) lenses for accurate gearing
3D marking disk allows focus marks to be easily viewed by operator or assistant
Standard Arri-style accessory port in focus wheel for attaching whip, speed crank, etc.
Industry-standard 15mm lightweight (60mm spacing) rod mount (rod support not included with microFollowFocus bundle)
Optional 19mm rod clamp adapts microFollowFocus for 19mm rods for cameras, including the Red ONE
Optional Fujinon 0.6 pitch drive gear works directly with Fujinon lenses
Optional reversing gear focuses Nikon and Pentax lenses in the "correct" cinema direction
Constructed of high quality, machined aircraft-grade aluminum
Lightweight design
Sleek Redrock look
Works great with DV and HDV built-in camera lenses
DSLR Baseplate
This unit's quick-release, rod-locking system is designed to offer fast attachment and removal
It includes a locking pin for Nikon and Canon cameras to prevent rotation
It features a rubber-padded platform
Professional-grade machined aluminum construction ensures its durability
In the Box
Redrock Micro 18-066-1105 "Captain Stubling" DSLR Bundle With Mirco Follow Focus
DSLR Baseplate
Handlebar rod clamp
Two Rubberized Hand Grips
One 4 inch grip rod
One 4 inch handlebar rod
Two 9 inch carbon fiber rods
microFollowFocus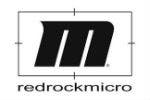 More From Redrock Micro
View Page
More Information

| | |
| --- | --- |
| SKU | 21839 |
| Brands | Redrock Micro |
| MPN | 18-066-1105 |