Requesting a Quote?
Looking for better pricing for an item? Create a new company account now to gain access to quoting, quick ordering, and more. Learn more details
here
.
Financial Options Available
Tiffen 4 x 5.65" Ultra Contrast Filter (Various Strengths)
Uses Ambient Light to Open Shadows
Lightens Shadows to Capture More Detail
Lowers Contrast Evenly Throughout
Geneates No Flare or Halation
ColorCore Glass
Made in the USA
10-Year Warranty
The Tiffen 4 x 5.65" Ultra Contrast Filter helps to open your shadows by using the ambient light surrounding the image area as well as the light in the actual image itself. It lowers contrast uniformly throughout, with little or no loss of sharpness within the scene, even where there are varying degrees of brightness.
Shadow areas will reveal more detail but without any flare or halation from direct light sources or bright reflections. The Ultra Contrast works similar to a Tiffen Low Contrast filter with the difference being that it reduces contrast throughout the entire image whereas a Low Contrast filter will only open the shadows.
The #1 Ultra Contrast filter is the first full grade this filter is available in. More of the surrounding light is employed to open your shadows yet you will still not see any highlight flare or halation. Sharpness continues to be consistent.
Tiffen's ColorCore glass is produced through a process that entails permanently laminating the filter material in between two pieces of optical glass that are ground flat to tolerances of a ten-thousandth of an inch, then mounting them in precision aluminum rings.
In the Box
Tiffen 4 x 5.65" Ultra Contrast Filter
Black Storage Pouch
10-Year Warranty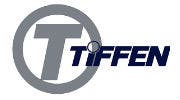 More From Tiffen
View Page
More Information
SKU
7192-etc
Brands
Tiffen
Specifications

Type: Ultra Contrast
Size: 4 x 5.65" (100 x 140m, 4mm thick)
Effect: Lowers contrast uniformly throughout the scene
Application: When the ratio of highlight to shadow is beyond the latitude of the film; when contrast control is required without effecting sharpness or generating flare or halation
Construction: ColorCore Glass