Requesting a Quote?
Looking for better pricing for an item? Create a new company account now to gain access to quoting, quick ordering, and more. Learn more details
here
.
Financial Options Available
Tiffen 49mm Circular Polarizer Glass Filter
49mm Circular Polarizer Glass Filter
Makes a Blue Sky Bluer
Enhances Clouds
Eliminates Reflections
High Quality ColorCore Glass
Black Aluminum Filter Ring
Tiffen Filters. 49mm. The Circular Polarizer is the most popular special effect filter available. Polarizers can create deep blue skies, provide a general saturation to all colors, reduce glare, and minimize reflections. Screw-in Polarizers are featured with rotating mounts for precise control of polarization. The Circular Polarizer is designed for usage with both auto focus and non-auto focus cameras.
Tiffen Tip: Polarizing filters achieve different effects depending on the photographer's position to the sun. To get maximum darkening of the sky, the photographer stands sideways to the sun (shoulders point to it) with the sun fairly close to the horizon. As he or she turns toward or away from the sun, the darkening is lessened. When the sun is directly overhead, only a small part of the sky near the horizon can be darkened. The Polarizer also removes unwanted reflections in highly reflective surfaces such as on cars or windows.
General Features:
Makes a Blue Sky Bluer
Enhances Clouds
Eliminates Reflections
High Quality ColorCore Glass
Black Aluminum Filter Ring
In the Box
Tiffen 49CP 49mm Circular Polarizer Glass Filter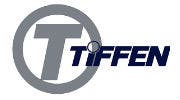 More From Tiffen
View Page
More Information
SKU
3560
Brands
Tiffen
MPN
49CP
Specifications

Type: Circular Polarizer
Size: 49mm, 5mm thick
Filter Factor: Between 2.3 and 2.8 (approx. +1.3 stops)
Multi-Coated: No
Rotating: Yes
Effect: Removes reflections and increases color saturation without affecting the overall color balance
Application: Nature, travel