Requesting a Quote?
Looking for better pricing for an item? Create a new company account now to gain access to quoting, quick ordering, and more. Learn more details
here
.
Financial Options Available
Tiffen 6.6 x 6.6" Hot Mirror IRND Filter (Various Neutral Density)
Enables Use of ND Without IR Pollution
Maintains Color Fidelity
For HD Camera Without Internal IR Filter
ColorCore Water White Glass
The Tiffen 6.6 x 6.6" Hot Mirror IRND Filter comes with a combo of both a hot mirror infrared control filter. A hot mirror IRND is ideal for HD cameras, which have greater low-light sensitivity and, subsequently, an increased susceptibility to IR contamination. When using a standard neutral density filter to counter the increased light sensitivity afforded by the HD sensor, the effects of infrared pollution become more apparent. This filter combines an ND filter with a comparable IR control filter to eliminate the spill of infrared light reaching the sensor while still maintaining the extra exposure benefits of a neutral density filter. The hot mirror filtration incorporates a dielectric mirror in order to combat the effects of both near and far infrared regions of the spectrum.
Features
Infrared control filter helps to block infrared pollution from affecting the color fidelity of imagery; this enables a wider color gamut and truer colors, especially noticeable in the darker regions of the image.
Ideal for use with HD cameras without an integrated infrared-blocking filter.
Hot mirror filter blocks infrared pollution from both near and far regions of the spectrum while allowing all visible light to pass.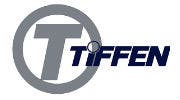 More From Tiffen
View Page
More Information
SKU
13331-etc
Brands
Tiffen
Specifications

Type: Hot mirror infrared control / neutral density
Size: 6.6 x 6.6" / 167.6 x 167.6 mm
Effect: Helps to balance HD camera's increased low-light sensitivity and susceptibility to red light/IR pollution
Construction: ColorCore technology and Water White glass